DIGARC is a software company dedicated to creating inventive and innovative solutions for higher-education institutions. With clients ranging from Ivy League universities to small community colleges, they lead the market in catalog and curriculum management software, offering high-tech solutions with a personal touch.
Research & Discovery
Digital Architecture was a successful higher-ed software company with a name recognition problem. Its best-selling product—Acalog—was both a blessing and a curse. As Acalog was cementing Digital Architecture's position as a market leader for catalog management, it was also overtaking Digital Architecture's identity. Even current clients were referring to Digital Architecture as "The Acalog Company." If Digital Architecture was going to translate Acalog's success into its other product areas, there was only one real solution: Bring back the brand.


Ideation & Execution
New name. New logo. New website. New everything.
What's in a name? Questions, apparently. To combat brand confusion (and the occasional "So what have you guys built?" phone call), we shortened Digital Architecture to DIGARC.

Our job is significantly easier when the product is already beloved by its users. Then, all that's left is to listen. Digital Architecture's customers fell in love with the company's game-changing software, but it was the diligent and devoted staff that kept customers coming back year after year. The tagline "Transformative products. Exceptional people." seemed to write itself.
You'll find the transformative theme woven throughout DIGARC's new website.
Unfolding squares allow potential clients to take a deeper dive into the product differentiators and qualities that set DIGARC apart. If your friendly, incredible team is what your clients remember most, put it front and center and let it shine. Custom photography of the DIGARC team conveys the high level of service clients expect while increasing brand trust (and helped us avoid the cardinal sin of looking inauthentic).
New messaging
You've been to a trade show, convention, meeting, etc., right? You scoop up handfuls of pamphlets, look at a few, and throw most away. To avoid the circular file, we crafted a high-level brochure that spoke directly to decision makers with clean, colorful design and meticulous messaging.

New trade show display
Trade shows are the bread and butter of DIGARC's business acquisition plan. When you're in a huge convention center, standing out is key. Let's just say "impossible to ignore" was a requirement in the design brief. DIGARC took home "Best Trade Show Display" at SACSCOC this year.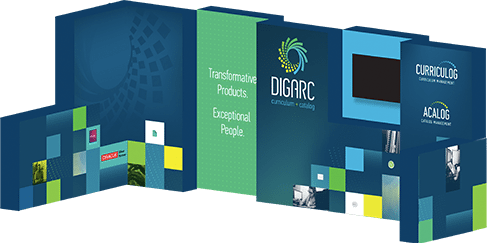 Cohesive Brand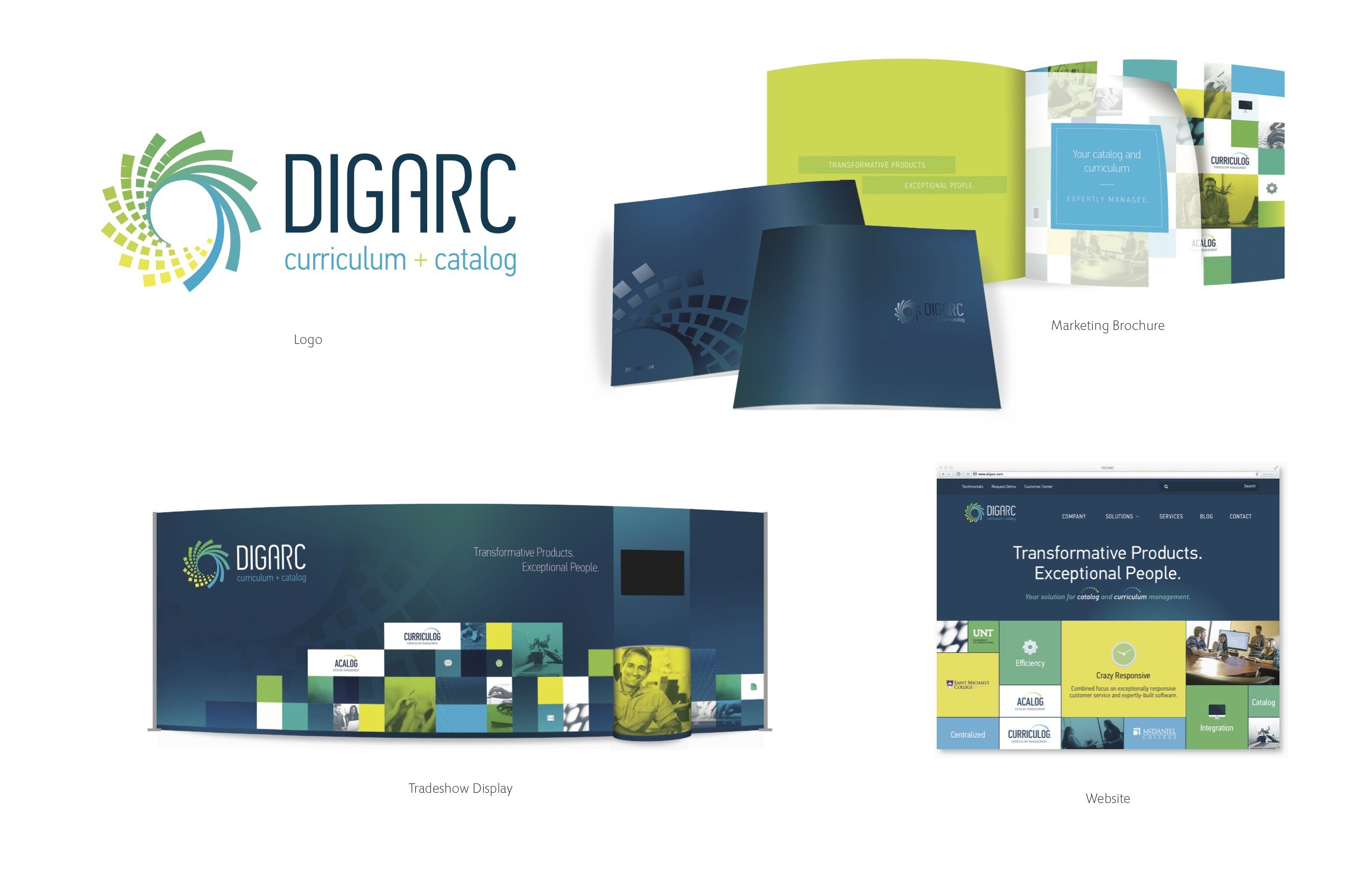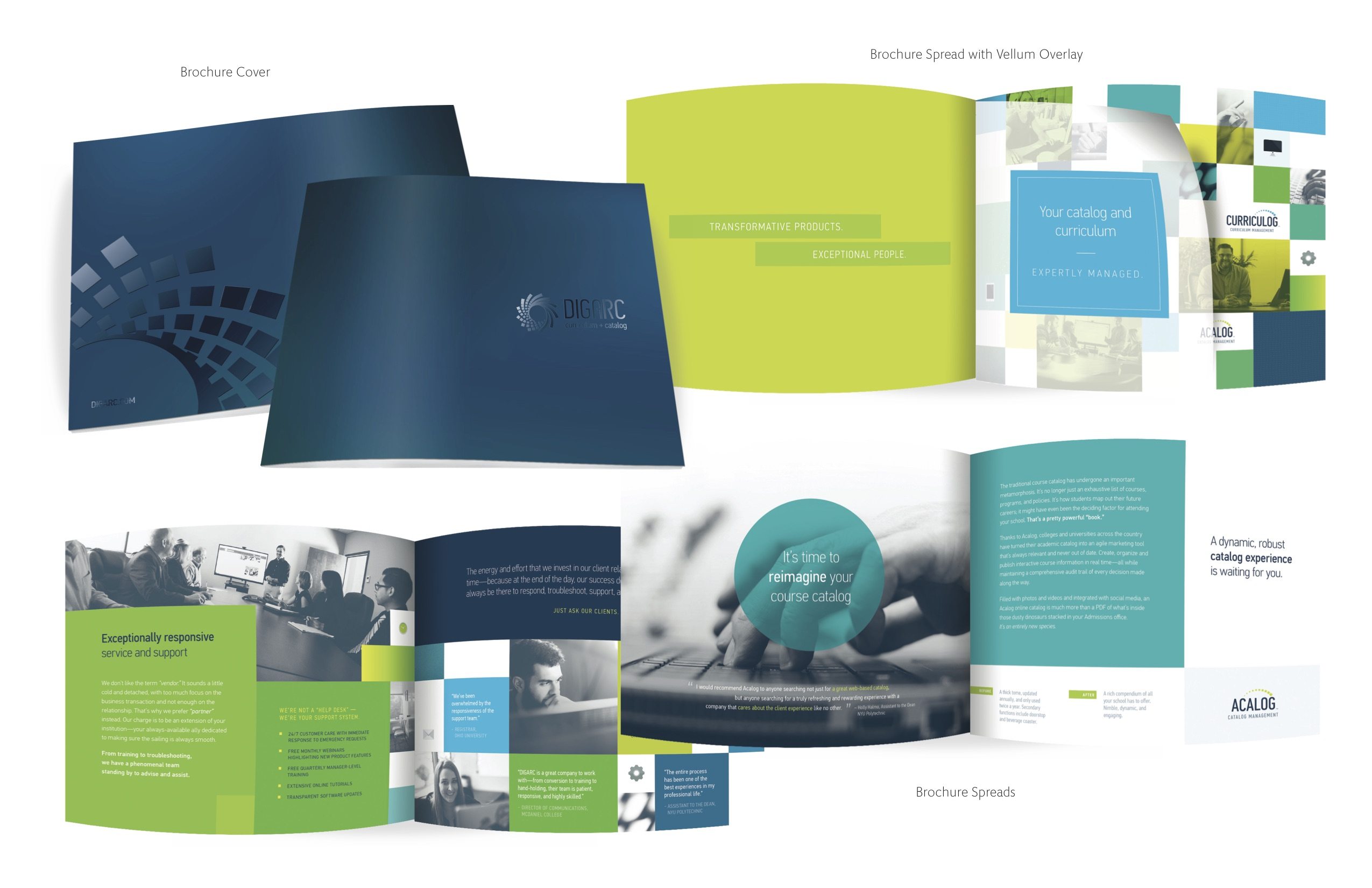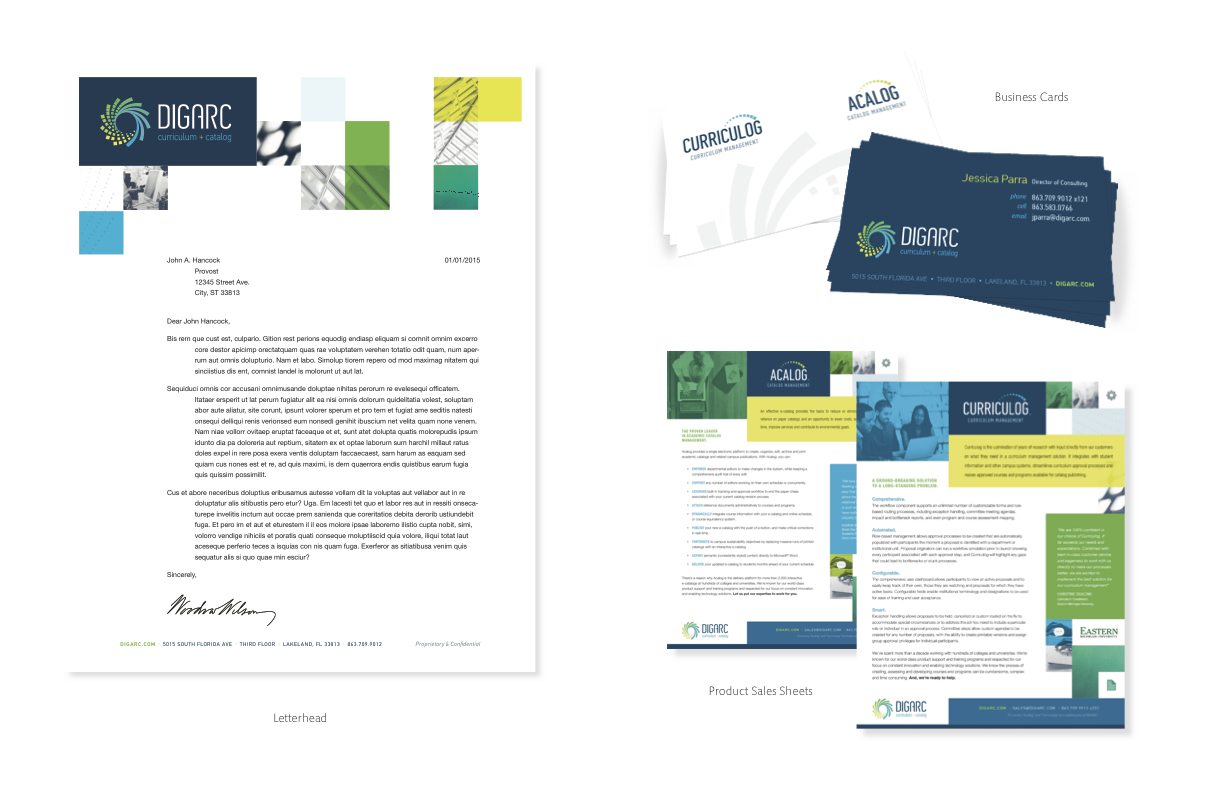 The Results
Now, DIGARC enjoys a cohesive brand that reflects its state-of-the-art software and market leadership. Acalog and Curriculog (and whatever comes next) coexist harmoniously in the same branded house.

We've always maintained that our work is defined by an unwavering focus on innovation and growth. If our software evolves to keep up with changing needs, why shouldn't our brand? We hope you'll agree that this modern refresh is a better reflection of our longstanding commitment to offer our clients the latest and greatest—from our software, our service, and ourselves.
DIGARC Brand Announcement